In this CBD review,I'll be reviewing Ageless Labs'most in-trend CBD products. These includeWater-Soluble Hemp Tincture, Rapid Relief Cream, Bath Bombs, Diet Hack Fasting Support 356, Cannabinoid Rich Gummies, Hemp Pet Drops, and Focus EZ Brain Support.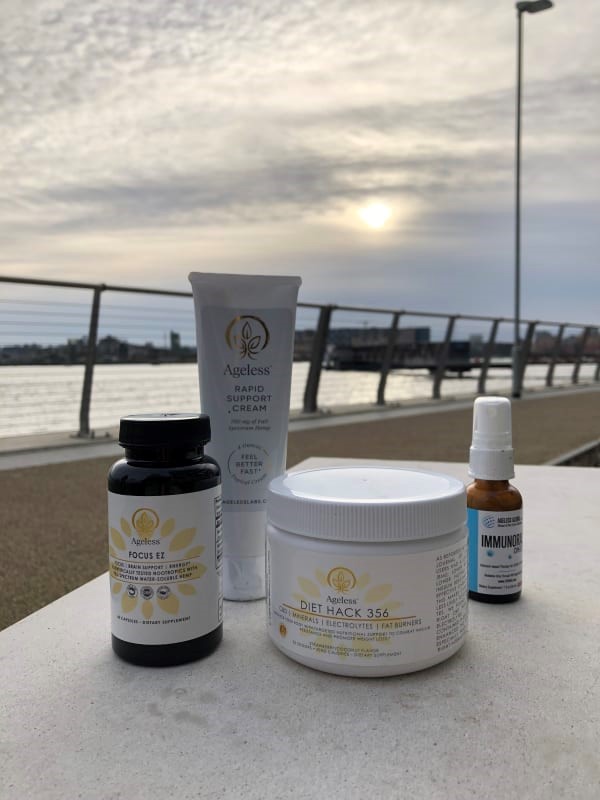 About The Brand
Ageless Labs is a credible CBD brand that offers a variety of products with unmatched efficiency and effectiveness. Its products hardly take about 15 minutes to start showing effects, unlike other brands that take 40 minutes or so.
The brand aims to support its community in all possible ways. It aims to promote good health and mental performance for everyone, even for pets. Consequently, it has introduced an extensive range of CBD products, including gummies, tinctures, bath bombs, pain relievers, weight loss supplements, brain support supplements, and even pet drops.
The experts behind the brand follow scientific formulations to make sure each of their products is as effective as it can be. Moreover, their intense testing procedures further ensure the best possible outcomes.
Ageless Labs Detailed Review
Water-Soluble CBD Tincture
Ageless Lab's water-soluble CBD tincture has made my mornings more energetic and fresher. This tincture is made up of Full Spectrum Hemp CBD Oil, Monk Fruit, Citric Acid, Vegetable Stearate, Natural Flavors, and Natural Colors, and preservatives.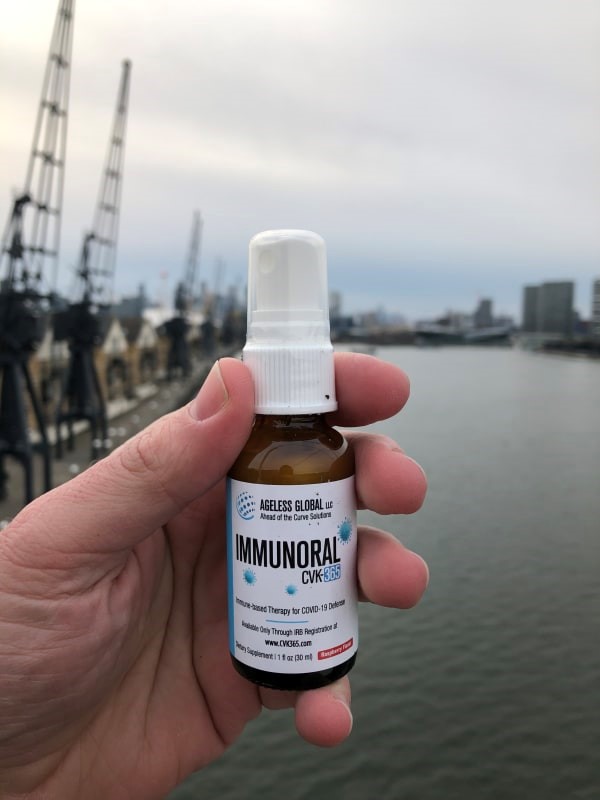 It is quite effective that only two drops in the morning could easily help me get through the day. I even noticed some improvement in my sleep quality and inflammation. Moreover, it is super quick to affect and did not take more than 15 minutes to completely calm me down.
It is available in four different flavors peppermint, chocolate mint, pina colada, and raspberry lemonade. The strengths are 1000 mg and 1500 mg – to be chosen as per the requirement. I tried pina colada with a strength of 1500mg. The flavor is quite enjoyable and can also be consumed directly without a drink.
Rapid Relief Cream
Resuming gym after a while felt like the worst decision till I found this rapid relief cream by Ageless Labs. This CBD-infused pain cream has been more instant and effective than most other pain relievers – balm or medication. I applied it to the targeted area and only had to wait for about 15 minutes for the pain to vanish. Believe it or not but this has been the fastest pain reliever I have ever encountered. Plus, it does not have any side-effects.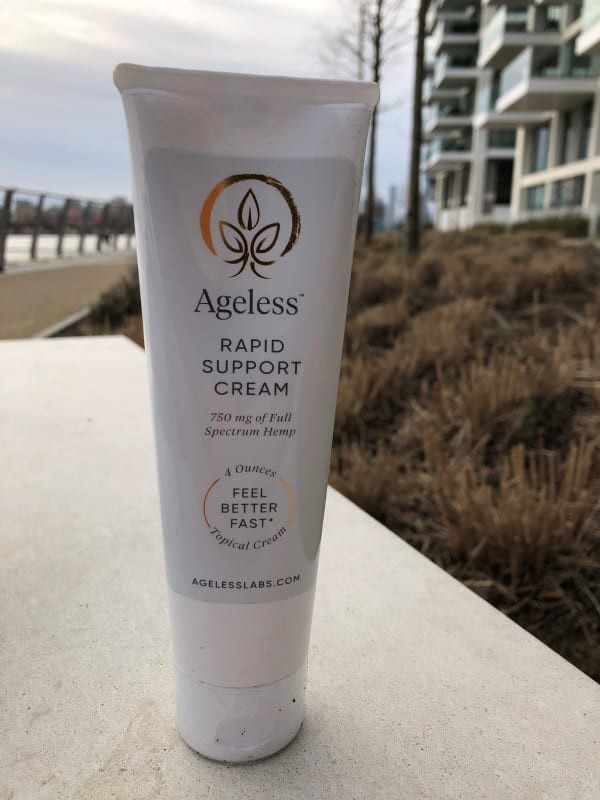 If that's difficult to believe, here is its composition – water-soluble hemp CBD, arnica oil, eucalyptus oil, peppermint oil, ginger oil, camphor oil, wintergreen oil, cinnamon oil, chamomile, and aloe gel. The water-soluble hemp absorbs into the system faster than any other pain reliever. Also, the dozen essential oils add great value to the product. Camphor and cinnamon oil have exceptional anti-inflammatory properties.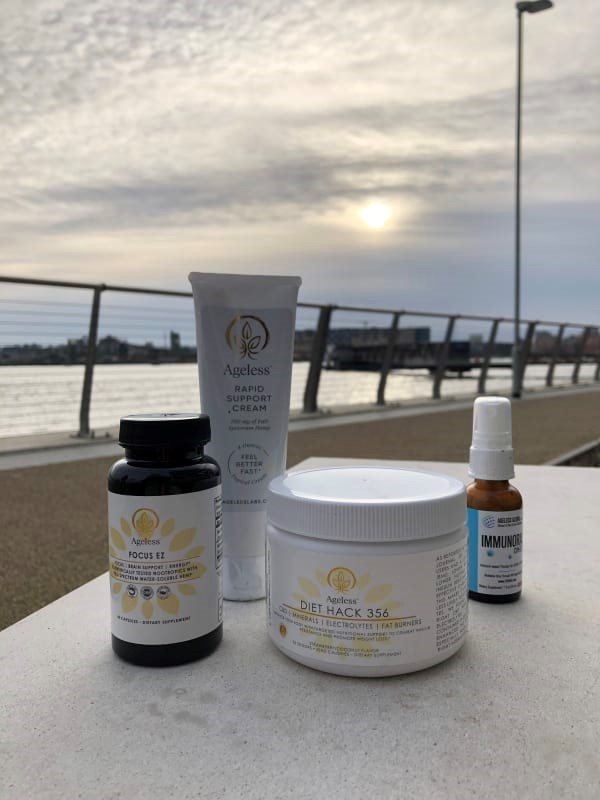 The peppermint oil offers an analgesic effect while the wintergreen oil amazingly soothes the skin. Arnica oil also exhibits some unmatched healing properties that can even relieve joint stiffness due to injury or arthritis. Not only does this pain relief cream combats the pain but also keeps the skin moisturized and rash-free.
Focus Ez Brain Support
With this Focus Ez Brain Support, Ageless Labs has gone the extra mile to ensure the well-being of its community. This brain support supplement is made up of full-spectrum hemp CBD, L-theanine, caffeine, and panex ginseng.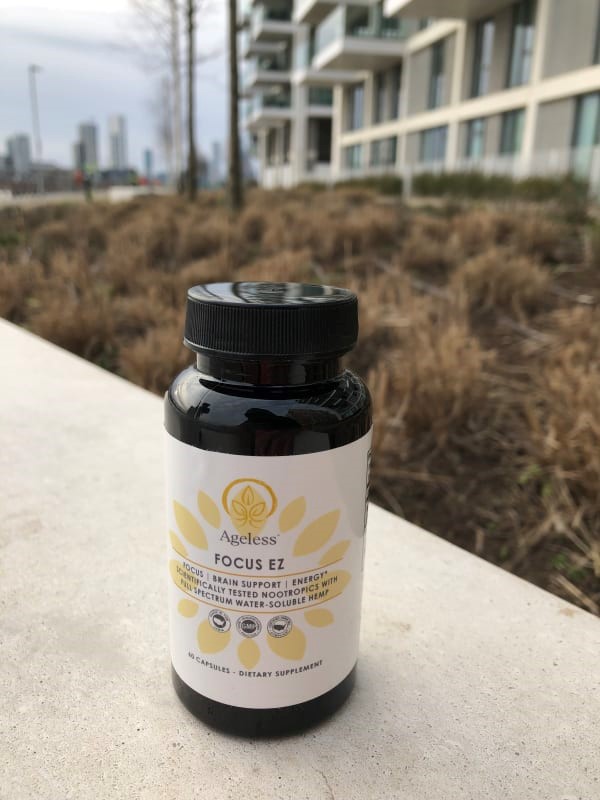 CBD relieves stress, anxiety, fear, and even gloominess replacing them with calmness and relaxation. It boosts mood and improves overall health. L-theanine increases dopamine, serotonin, and GABA levels in the brain which creates a strong relaxing effect. This improves mood and boosts creativity.
Caffeine's most prominent effect is the profound alertness that makes a person more aware of his surroundings and helps to quickly to act accordingly. It also reduces tiredness which contributes to keeping one awake. These are some of the most recognized characteristics of caffeine that have made it a common constituent of drugs for treating migraines, headaches, and drowsiness.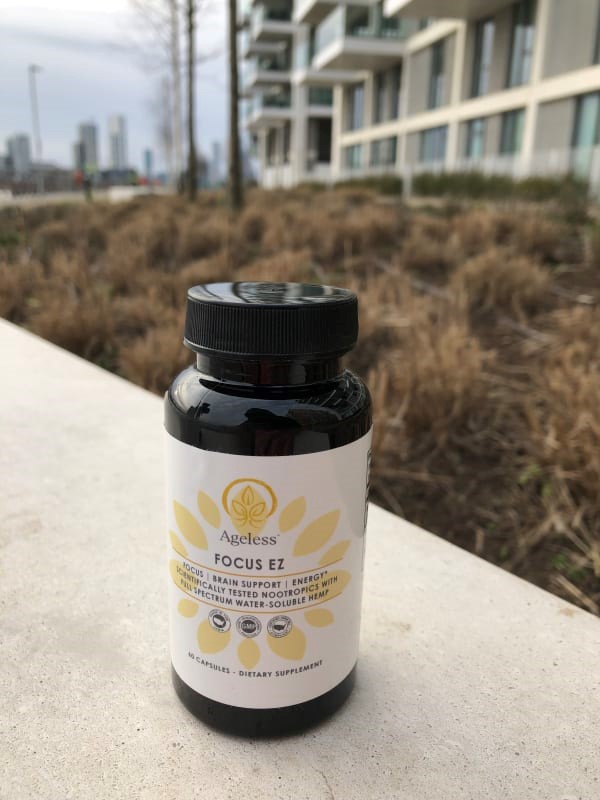 The powerful blend hardly needs any time to show its amazing effects. I used to take 4 capsules a day (the recommended dosage is 6 capsules a day as needed) and they hardly took 15-25 minutes to calm me down, boosting my creativity to new levels.
Diet Hack Fasting Support 356
Losing weight is not only a matter of a few squats or a 2-kilometer walk. That indeed contributes to it but it takes a lot more. One essential component is to maintain a proper nutritional balance that a lot of people do not pay attention to. This deprives them of the dietary components crucial to a healthy body and they start to get exhausted more easily.
Ageless Labs has the perfect solution for this – Diet Hack Fasting Support 356. This diet hack is a CBD-infused supplement that supports weight loss while maintaining your energy levels and nutritional balance.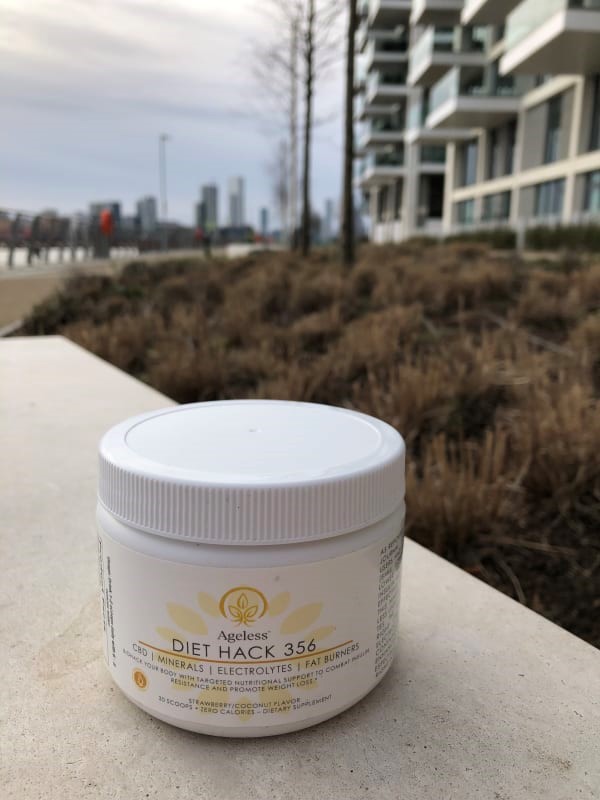 CBD has shown to decrease BMI and insulin resistance to lower the chances of diabetes and ensure a healthy body. Since the hemp used in this supplement is water-soluble, it affects more quickly than other CBD products. The supplement also contains magnesium, vanadium, chromium, potassium, green coffee beans, green tea, and guarana.
Chromium also helps prevent diabetes. Some studies claim that it can even reverse it. Magnesium aims to maintain the energy level which protects you from constant exhaustion and allows you to easily complete all your chores.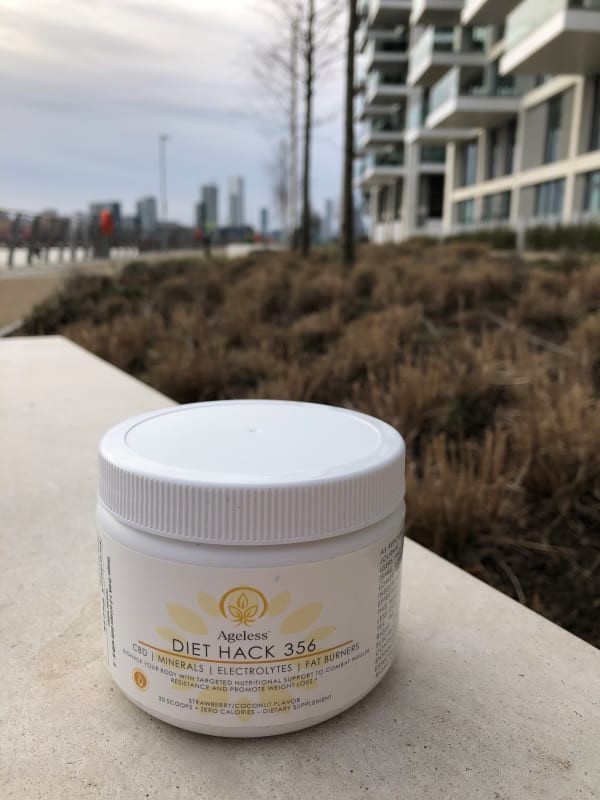 The container is filled with 30 scoops while each drink takes about one scoop. You can simply mix it in water and gulp it down. Its strawberry and coconut flavor is an enjoyable treat to the taste buds.
Ageless Labs Cannabinoid Rich Gummies
Stress and anxiety immensely interfere with our daily activities and most particularly destroys sleep which in turn makes the situation even worse. Good sleep is important for a healthy mind and body. Thus, remedying these conditions immediately is important. Although other CBD products discussed here do have some impact on sleep, Cannabinoid rich gummies specifically did it the best.
Loaded with 500mg of water-soluble hemp cannabinoid, these gummies directly interact with the endocannabinoid system of the body and instantly relieve stress and anxiety. I preferred to stick with the recommended dosage of 1-3 gummies a day.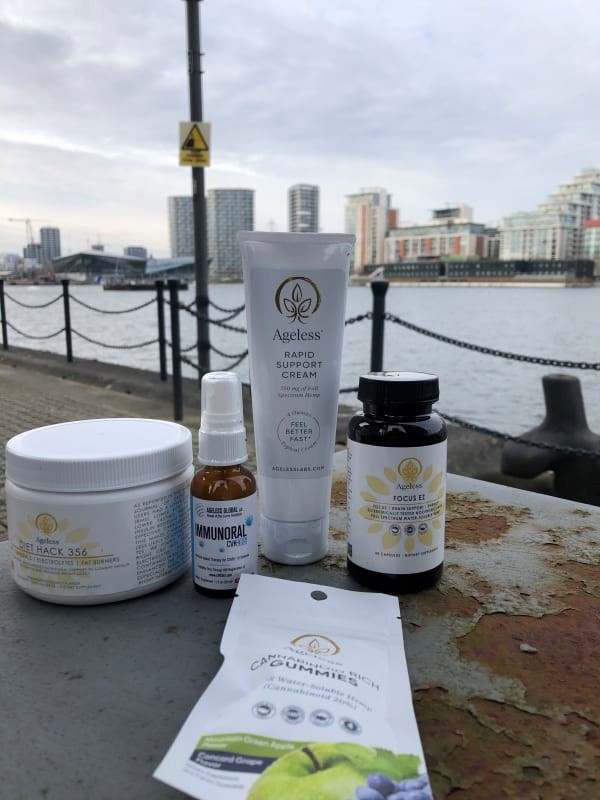 However, at times when I had trouble sleeping, I took 5 gummies 20 minutes before bedtime. Since these gummies are super quick to affect, I started to feel sleepy in around 15 minutes. Thus, by the time I got to bed I was sleepy enough to drift into slumber right away. This improved my mood and kept me more alert in the morning. It is quite effective against inflammatory conditions as well.
It is available in three different flavors – mixed fruit, concord grapes, and mountain green apple. I tried mixed fruit and absolutely loved its juicy flavor. It was tastier than normal gummies which made it quite difficult to resist.
Bath bombs are one of the easiest ways to consume CBD. You don't have to worry about their taste or dosage. Ageless Labs offer four bath bombs, each for a specific purpose – breathe, headache release, retreat, and pain relief. The strengths to choose from are two -50mg and 100 mg. I chose headache release (100 mg) and in less than 20 minutes I was completely relieved. Believe me when I say these bath bombs work better than an aspirin. You can relieve all your stress and headache by simply taking a bath – no effort to put, no side-effects to worry about.
Full-Spectrum Hemp Pet Tincture
Pets are family and thus they must be treated as one. This does not only include bathing or feeding them, but also taking care of their anxiety, which is becoming common in pets these days. My dog gets super anxious when he doesn't see me around which makes going to work extremely difficult for me. Just when I was considering giving him away to a friend, I came across this full-spectrum hemp pet drop by Ageless Labs.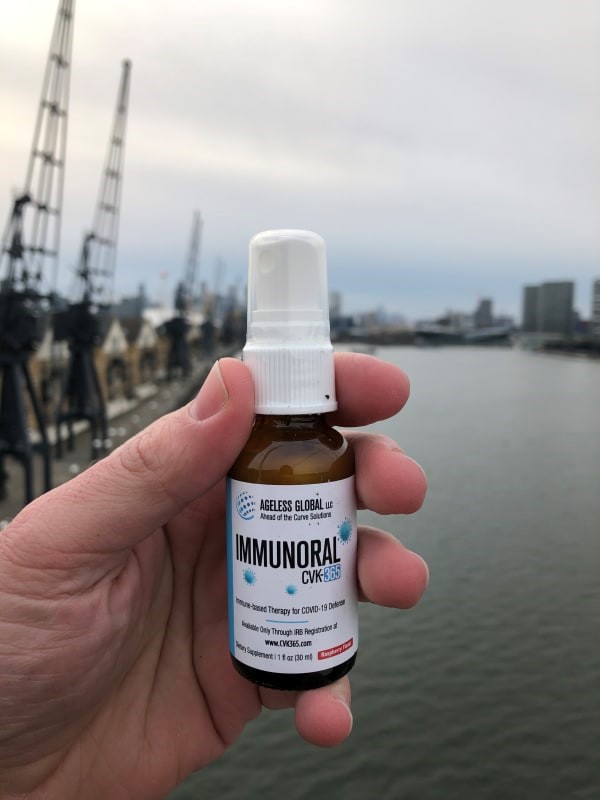 The 30 ml tincture is infused with 300 mg of CBD which makes each drop extremely effective that only a couple of drops can do the work. I gave my dog 2 drops of this tincture mixed with his food in the morning and remained calm for the rest of the day. Its bacon flavor has become his favorite. The tincture has also significantly reduced his inflammation.
Conclusion
Ageless Labs is a trustworthy brand with hundreds of customers with me included who can surely vouch for the company. It offers some of the most amazing products available in the market that have made it one of the most sought-after CBD brands.
Its brain support is an excellent product that boosts mood and creativity like nothing else. The diet hack makes weight loss enjoyable with its convenience and tropical flavor while maintaining your body's nutritional balance and energy levels. The gummies and tinctures are also quite relaxing and have a significant impact on sleep quality. All in all, every single product by the brand is the best value for money.
Latest posts by Ksenia Sobchak
(see all)