A Vape Review of the Full Line of Horny Flava Eliquid for 2019
If you are new to Malaysian eliquids, we recommend that you start by looking at this well known brand in Malaysia – Horny Flava. This vape review is brought to you by Peaches and Screams in collaboration with Punk Juice, The Eliquid Boutique and Wow It Love It Have It.
Horny Flava is a premier Malaysian eliquid brand that has gained a strong footing in Malaysia as well as across Europe. Their colourful and oddly shaped bottles are a staple in most vape shops throughout Malaysia. Their concept has always been to deliver simple and uncomplicated eliquid flavors made for those that don't believe the hype but instead trust in good quality flavors at a reasonable price. Their trademark look is extremely simple yet attractive and its reflective of their beliefs of delivering simple quality flavors to the vaping community at home and abroad.
In this article, we look at the 10 flavors from Horny Flava and look at the pros and cons of each flavor and my overall experience with each. From my testing, the flavor description by Horny Flava is extremely accurate and true to the eliquids they produce. They don't complicate flavors by adding to many layers and keep their flavors simple without being overly complex (which makes it hard to identify) or sweet (which i hate).
These are the following flavors which we will be reviewing before ending with a summary on my top recommendations.
Horny Flava Grape (50PG/50VG, 6mg)
Horny Flava Sour Mango (50PG/50VG, 6mg)
Horny Flava Pineapple (50PG/50VG, 6mg)
Horny Flava Red Apple (50PG/50VG, 6mg)
Horny Flava Mango (50PG/50VG, 6mg)
Horny Flava Strawberry (50PG/50VG, 6mg)
Horny Flava Quebec (50PG/50VG, 6mg)
Horny Flava Dear Tooth (50PG/50VG, 6mg)
Horny Flava Pinberry (50PG/50VG, 6mg)
Horny Flava Pomberry (50PG/50VG, 6mg)
For this flavor review of Horny Flava, i'm using a dripper tank with 0.5ohm resistance firing between 25-30 watts.
1. Horny Flava Grape Flavoured Eliquid Review (50PG/50VG, 6mg)
Definitely a black grape mix with a slight cooling note on the inhale. Nice throat hit for the 6mg flavor. If you want less throat hit definitely try the 3mg or zero nicotine variety. The grape flavor is quite juicy and reminds me of grape cordial or grape juice and not the actual fruit. A very obvious and easily identifiable grape flavor and the sweetening level is nicely controlled. I wouldn't say that it is low sweetness, but definitely a medium level of sweetness. It leaves a sweet aftertaste of grape in your mouth after each puff.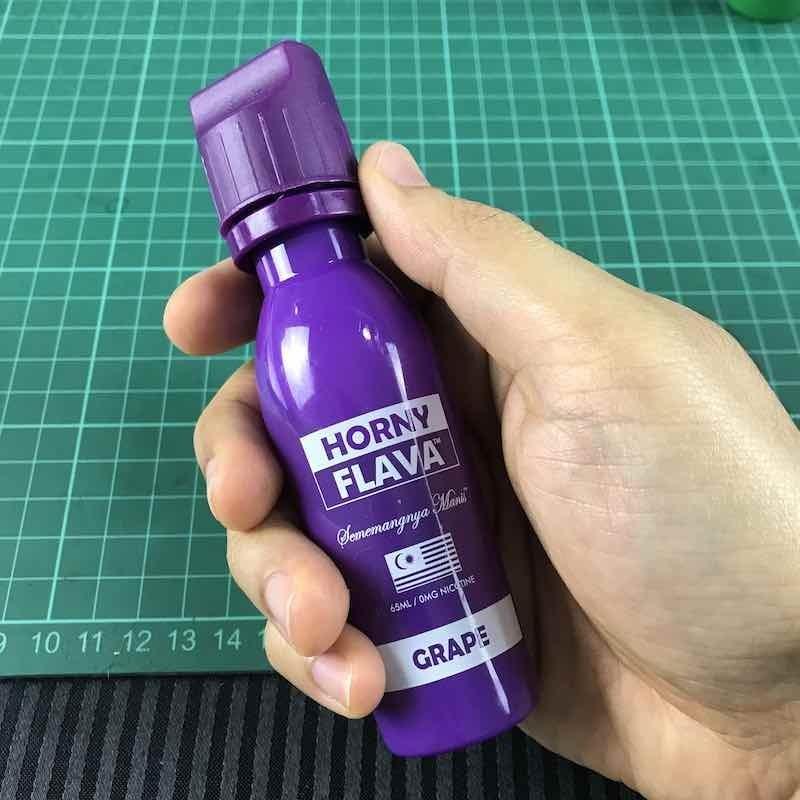 2. Horny Flava Sour Mango Vape Juice Review (50PG/50VG, 6mg)
Wow! I love this sour mango. It reminds me straight away of young green mango – like the type u find at a Thai restaurant in their salads. This green mango flavour is a little bit sour and has a pleasant 'green' flavor to it – an uncanny resemblance to real young mango! Definitely a 1 to 1 match to the real thing! Perfect. Sweetness level is medium but the most unique characteristic that jumps out at me is the 'green' flavor your get from this mango that makes it less boring and more satisfying than simple mango. Zero cooling notes makes this easy to vape all day too.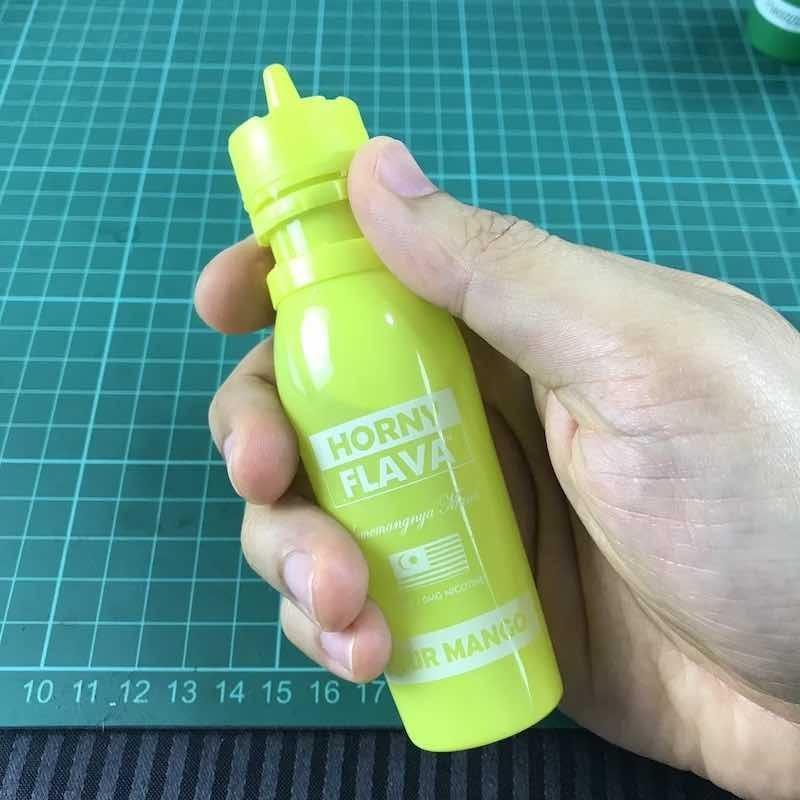 3. Horny Flava Pineapple Eliquid Review (50PG/50VG, 6mg)
Yummy pineapple! Clean and simple pineapple flavor with a mild throat hit. No unpleasant sharpness or annoying tingling sensation in your throat that you sometimes get from some pineapple flavors. Similar to the other flavors by Horny Flava, the cooling level is very low. Sweetness level for me is also medium and it's not sickly sweet which i definitely prefer.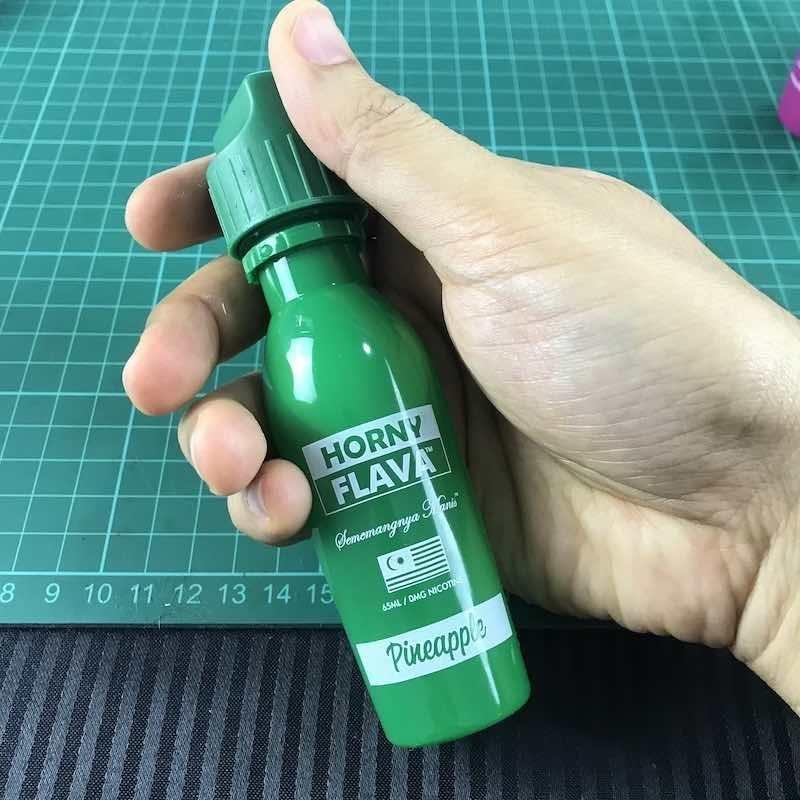 4. Horny Flava Red Apple E-Liquid Review (50PG/50VG, 6mg)
Another flavor that is a home run! Full of crisp and fresh red apple taste. A one for one replica of fresh and crisp red apples. Love this! Very easy to vape and a pleasant medium sweetness. Zero cooling note which makes it easy on the throat. I love how accurate the flavor descriptions are by Horny Flava to the actual taste that you get. Definitely a winner for me! I'm surprised that the simple flavor of red apples can impress me to this extent. It could be because i'm very familiar with the taste of fresh red apples and eat it all the time.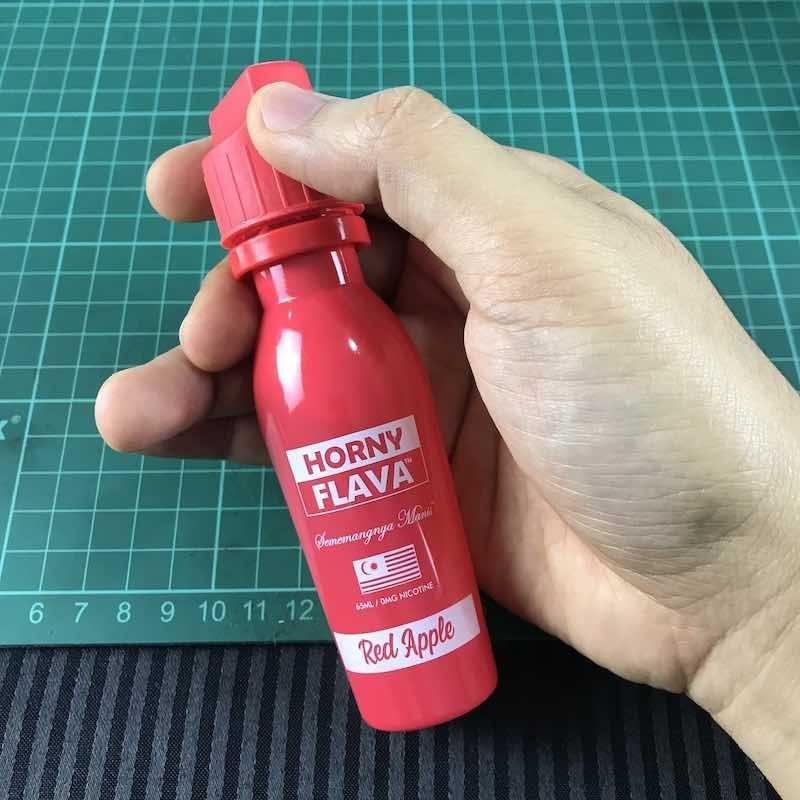 5. Horny Flava Mango E-Juice Review (50PG/50VG, 6mg)
Nice ripe mango flavor. Simple and clean mango taste that is easily identifiable. Some other manufacturers are too heavy handed with the sweetness level to bring out the mango taste – but not Horny Flava. With very low cooling notes, this is easy to vape all-day. Even for the 6mg, the throat hit is quite mild. The sweetness level is also a medium and not disgustingly sweet. If you like the simplicity of ripe mango, this is the one to get. When i compare this to their Sour Mango – you can really taste the difference in each. This Mango is ripe and juicy (but a little boring for me) while Sour Mango has a sour and 'greenish' taste to it.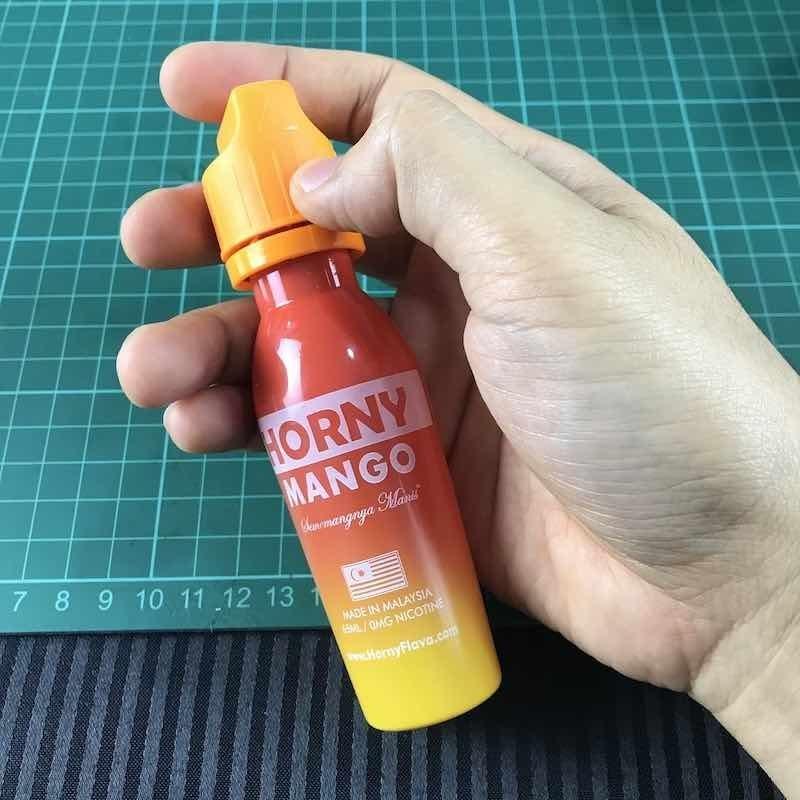 6. Horny Flava Strawberry Eliquid Vape Review (50PG/50VG, 6mg)
Aha! Definitely strawberry cream candy for me! Taste like a strawberry cream candy flavor. Love this a lot! The strawberry taste is not a fresh tasting fruity strawberry – it's more of candy strawberry taste which is slightly creamy. This is not strawberry jam. Even though they don't mention cream, it's definitely got a creamy strawberry mouthfeel to it. For the 6mg, the throat hit is quite strong so I would recommend the 3mg if you prefer a milder throat hit.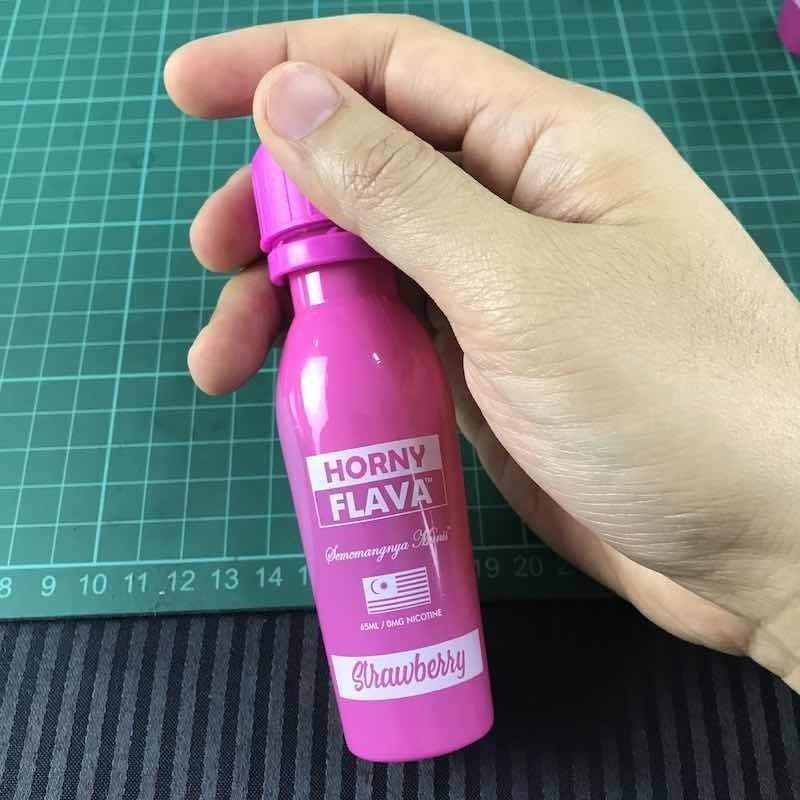 7. Horny Flava Quebec Ejuice Vape Review (50PG/50VG, 6mg)
For watermelon fans – wow this is the one! A like for like comparison to the real fruit. All i was expecting was a close resemblance to watermelon but this one has surprised me because it tastes even fresher than i had expected. I think the unique aspect of this flavor is that it manages to capture the flavor of the watermelon rind, the 'greenish and whitish' part of the watermelon that adds to its freshness. With the low cooling note – wow im totally enjoying this one for sure. So fresh and clean and easy to vape all day. Unlike the other Horny Flava line-up which for me, has a medium level of sweetness, i would say that this flavor has a very low level of sweetness but the aroma of watermelon is nice and strong. Low level of sweetness and zero cooling level makes this so easy and enjoyable to vape all day.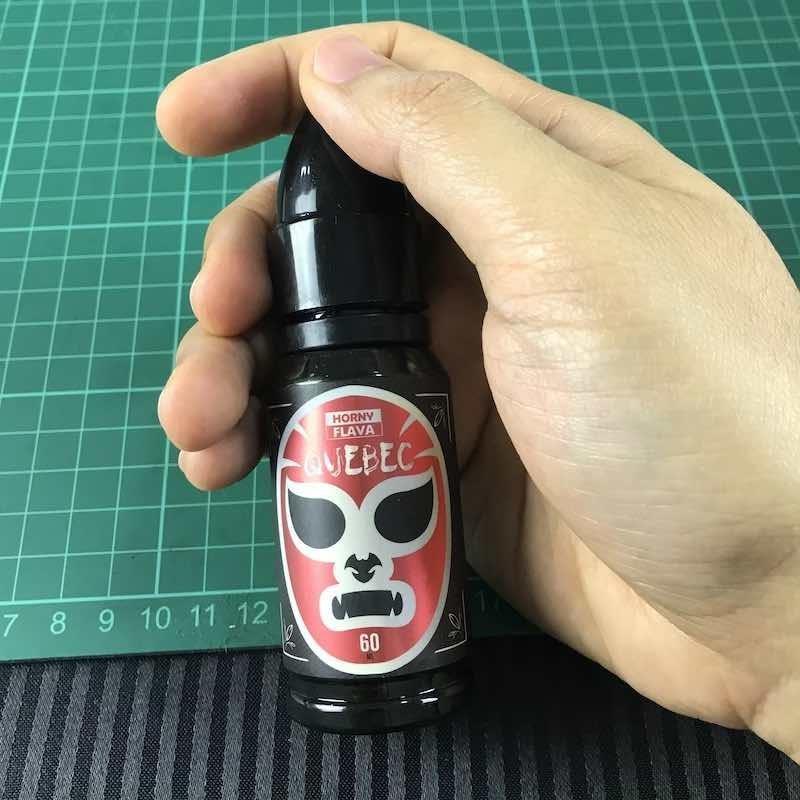 8. Horny Flava Dear Tooth Vape Liquid Review (50PG/50VG, 6mg)
Hahaha! A creamy flavor with spearmint at the forefront. First hit will remind you of Wrigleys spearmint gum! What a fitting name – dear tooth! Makes me feel that I am cleaning my teeth for fresher breathe. As they used to say in the Wrigley Gum adverts – cool and refreshing. I think you will pass this ejuice to your friends if they want fresher breath. It's not overly creamy or sweet, just a very nice spearmint flavor that will remind you of Wrigleys spearmint gum. Because of the spearmint gum taste, you can expect a slight cooling note to this ejuice that is pleasantly cool but not overwhelming. The cooling note is low and disappears instantly after each puff and will not make your throat stay cool for a long time like some other ejuices.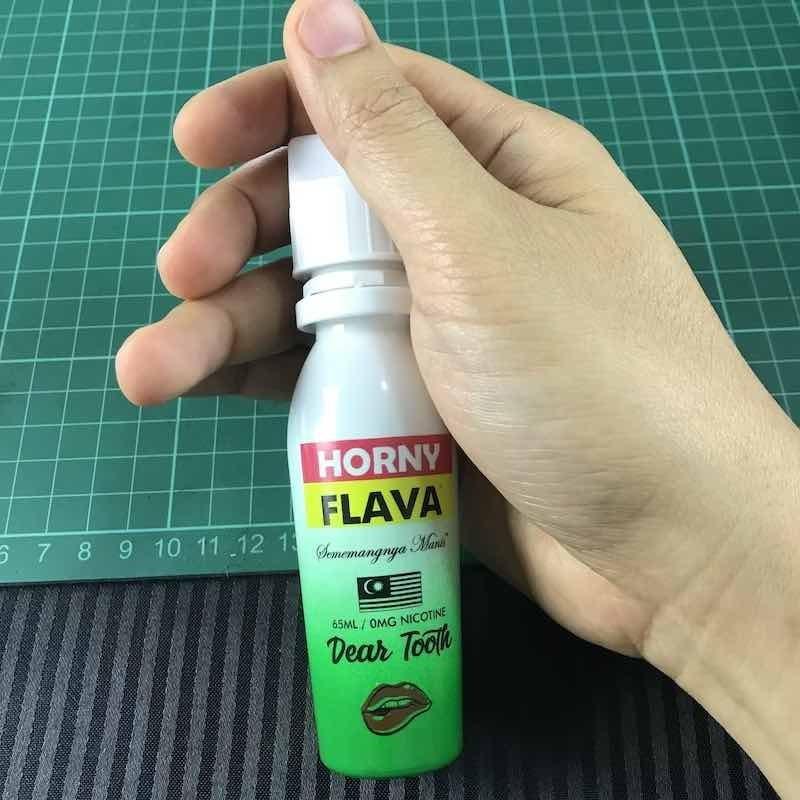 The last two flavors below are Pinberry and Pomberry which are mixed fruit flavors.
9. Horny Flava Pinberry E-Liquid Review (50PG/50VG, 6mg)
The description says its tangy pineapple with sweet strawberry and cantaloupe. For me, the first puff i definitely get some tangy flavors from the pineapples and also the strawberry notes. The cantaloup for me, is not very obvious. This flavor for me falls into the mixed fruit category that is more pineapple and strawberry as i don't get any cantaloup or melon taste. It's a mixed bag of fruit and i prefer the tropical punch flavor of Pomberry more.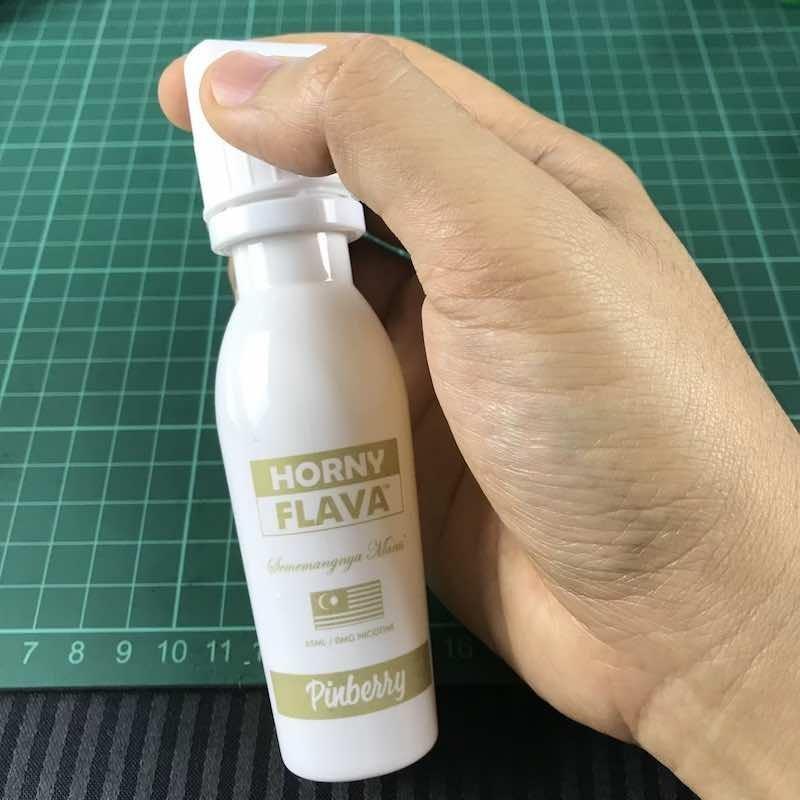 10. Horny Flava Pomberry Vape Juice Review (50PG/50VG, 6mg)
On first puff, it reminds me of a tropical fruit punch. I can't figure out what fruits exactly are inside but I know that I like this a lot. The description mentions strawberries and mangosteen with melon. I think that definitely, I can taste the strawberries on the first puff. But the mangosteen flavor is unfamiliar to me and because i haven't vaped a pure mangosteen flavor and its quite hard to tell the exact taste of mangosteen. But the overall fruitiness of this eliquid is pleasantly good, perhaps due to the melon. Pomberry and Pinberry are probably the most complicated flavor by Horny Flava because it combines 3 fruits. But for me, the mix is not so easily identifiable – I only can identify the strawberry taste clearly while the rest of the fruits play 'back-up' in this recipe. Get this if you like a mixed fruit punch flavor with low cooling notes.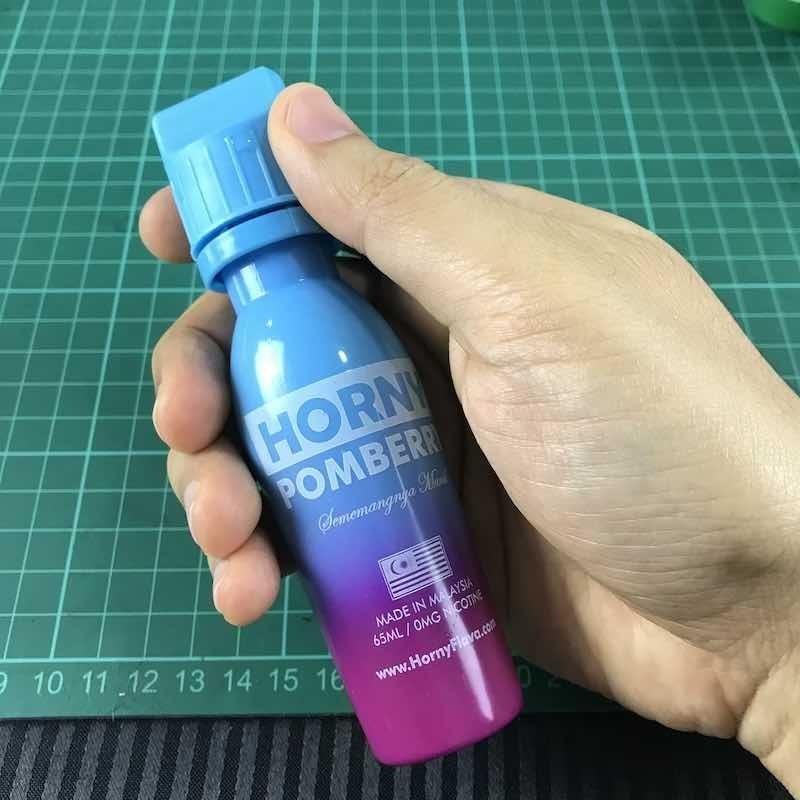 Vape Review Summary: Full Line of Horny Flava Eliquid
That sums up the collection of freebase eliquids from Horny Flava! I hope i was able to give you a good guide to the description of their flavors. After reviewing their flavors, I would say that Horny Flava is one of the best ejuice manufacturers from Malaysia that keeps their flavors simple and very true to what is described as per their website. No overselling on flavors here. As for my recommendations and notable characteristics, you can see the list below. I have ordered the list from most favourite to least favourite. You can buy these eliquids at most vape shops. Make sure to visit All Vape Stores vape shop directory to find a vape shop near you.
| | | | | |
| --- | --- | --- | --- | --- |
| Most Favourite to Least Favourite | Name | Sweetness and Cooling Level | Easily identifiable flavors? | Key characteristic |
| 1 | Horny Flava Quebec | Zero Sweetness and Low Cooling | Absolutely | Just awesome taste of fresh watermelon which is highly addictive for me. |
| 2 | Horny Flava Sour Mango | Medium Sweetness and Zero Cooling | Absolutely | Very unique taste of young and unripe mango that has some sourness and impressive 'young and green' flavor. |
| 3 | Horny Flava Red Apple | Medium Sweetness and Zero Cooling | Absolutely | Smashing taste of fresh red apples. The fresh and 'crispiness' of the apple taste is what gets me hooked. |
| 4 | Horny Flava Grape | Medium Sweetness and Zero Cooling | Absolutely | Juicy grape drink like the type you find in packet drinks. |
| 5 | Horny Flava Pineapple | Medium Sweetness and Zero Cooling | Absolutely | Fresh pineapple taste that does not tingle my throat. |
| 6 | Horny Flava Strawberry | Medium Sweetness and Zero Cooling | Absolutely | Love the strawberry candy and creamy flavors. |
| 7 | Horny Flava Dear Tooth (Spearmint candy) | Medium Sweetness and Low Cooling | Absolutely | Wrigley's spearmint gum all the way for fresher breathe! |
| 8 | Horny Flava Pomberry | Medium Sweetness and Low Cooling | Not really | Tropical fruit punch which i like a lot. Overall mix is tasty. |
| 9 | Horny Flava Mango | Medium Sweetness and Low Cooling | Absolutely | Too common and boring for my vaping preference. |
| 10 | Horny Flava Pinberry | Medium Sweetness and Low Cooling | Not really | Too many things going on and hard to tell what its supposed to be. |