We cover the story behind the Medusa brand, their design and branding and the guys share their thought process behind creating products for Medusa.
So, for this article, we will cover their Neo Series (30PG/70VG), Performance Series (cloud chasing 20PG/70VG) and their newly launched Salt Nic (50PG/50VG) line-up. Let's dive-in:
Medusa Juice Neo Series – Fruity impact flavors for your tanks
1. Hawaiian Haze E-Liquid (30PG/70VG, 6mg)
Ok Hawaiian Haze is probably my favourite pineapple mix together with Nasty Juice's Slow Blow. The pineapple is tangy and slightly sweet and is well balanced with the kiwi. I cannot taste kiwifruit and i can't say that i'm familiar with the taste of kiwi. But i know that there is another 'foreign' fruit in the recipe that's messing with the pineapple and twisting the pineapple taste into something that's more unique and enticing than simple pineapple. For the 6mg, the throat hit is very mild which i prefer! Zero cooling and not at all sweet.
2. Cherry Bomb Vape Juice (30PG/70VG, 6mg)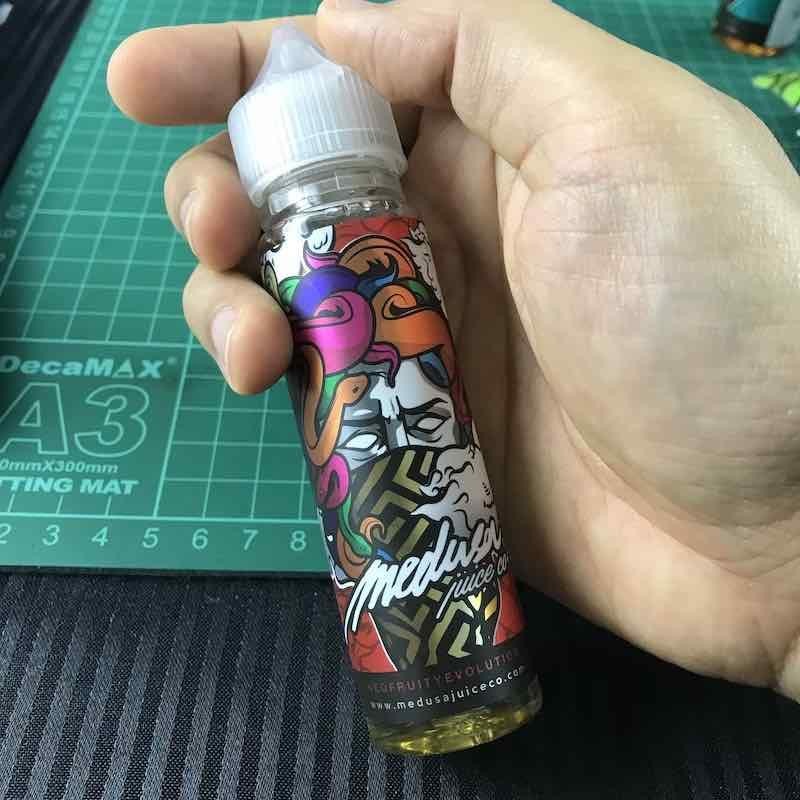 Oh wow a super fragrant watermelon hit on the first puff. Beautifully aromatic and not sweet at all (which i love). When i open and smell the ejuice, it definitely smells like sweet red watermelon. On the exhale i get some berry flavor – i can't tell if its strawberry, raspberry or blueberry but I know there is an earthy berry flavor in there which is mixed in with the watermelon. I would compare the aroma of the watermelon to watermelon candy or chewing gum and it's very addictive. In testing the 6mg, I find that the throat hit is very mild and tolerable. Together with Hawaiian Haze, I love this flavor a lot.
3. Crystal Kandi E-Juice (30PG/70VG, 6mg)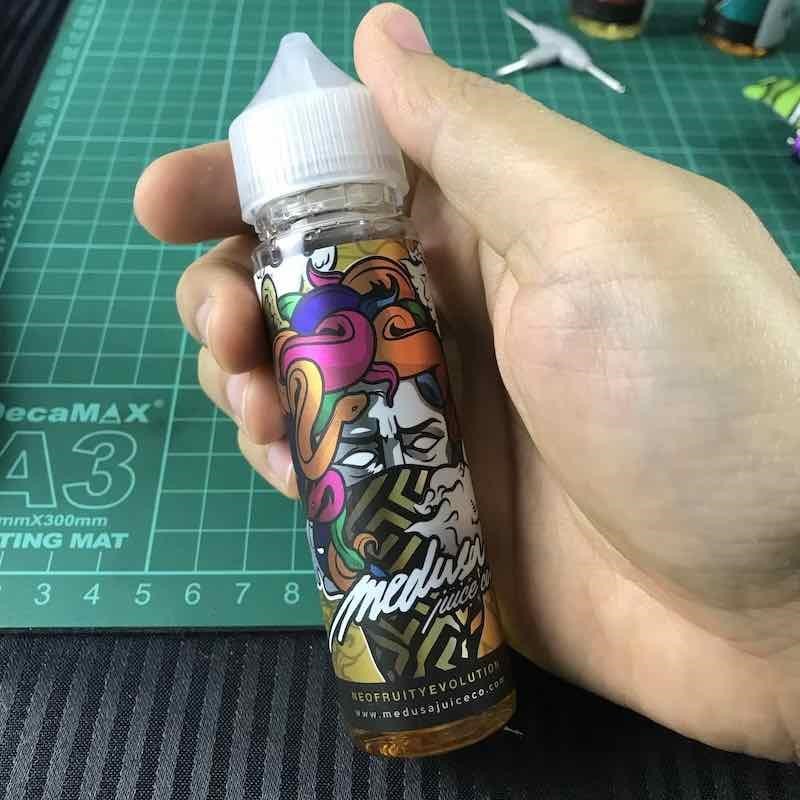 The first hit gives me highly aromatic banana notes just like you would find in a banana cake. But there is something unique that's happening on my tongue because the banana is mixed in with – KIWI. Crystal Kandi has successfully familiarised me with the taste of kiwi and now it's clear and identifiable. The kiwi taste reminds me of a slurpee for some reason. It tastes very much like candy and the kind of flavoring you get in colourful sweet beverages at a 7-11. As for the strawberry that is supposed to be in this recipe – I don't really taste it. But I dont think its a bad thing because I don't mind that it isn't obvious. It could be hidden somewhere in the background but the banana and kiwi for me is the winning combination here. Sweetness level is very low. I feel that their juices deliver a nice floral and aromatic puff and due to this, they don't use much sweetener which is great in preserving my coils.
4. Tangie Queen E-Liquid (30PG/70VG, 6mg)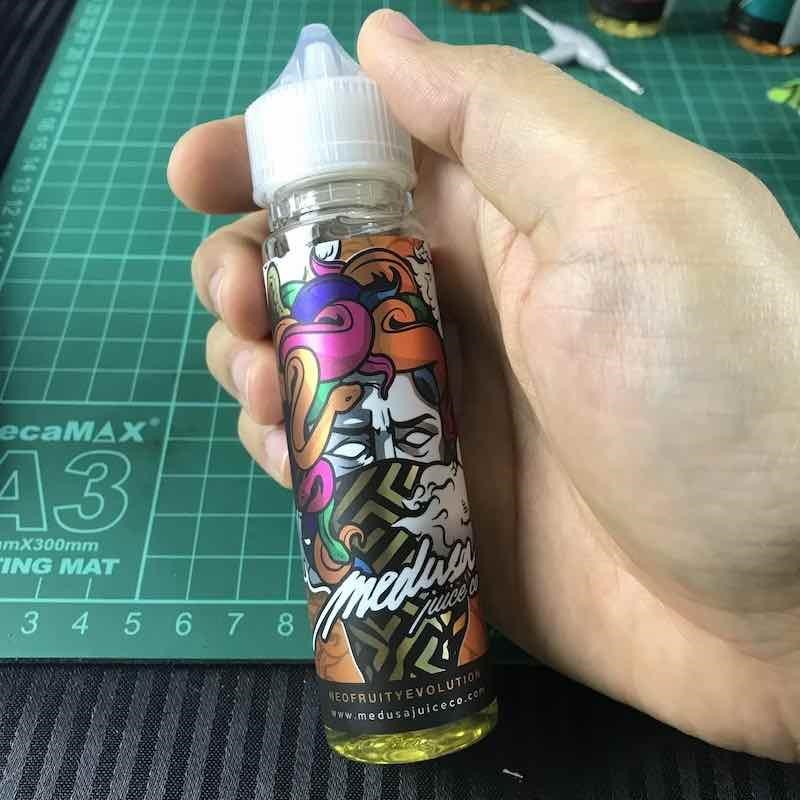 Ok this tastes very similar to many mango flavors which I've had before among Malaysian makers. I'm not getting much of the strawberry – I think its far in the background and they've added some of it in to add some sourness. I think it's a nice touch, because it helps the mango be less boring and overpowering after 20 puffs. The sweetness level is very low and there is zero cooling notes. The aroma is what I get on the exhale and gladly, there is no sickly-sweet aftertaste even after 20 puffs.
5. White Rabbit Ejuice (30PG/70VG, 6mg)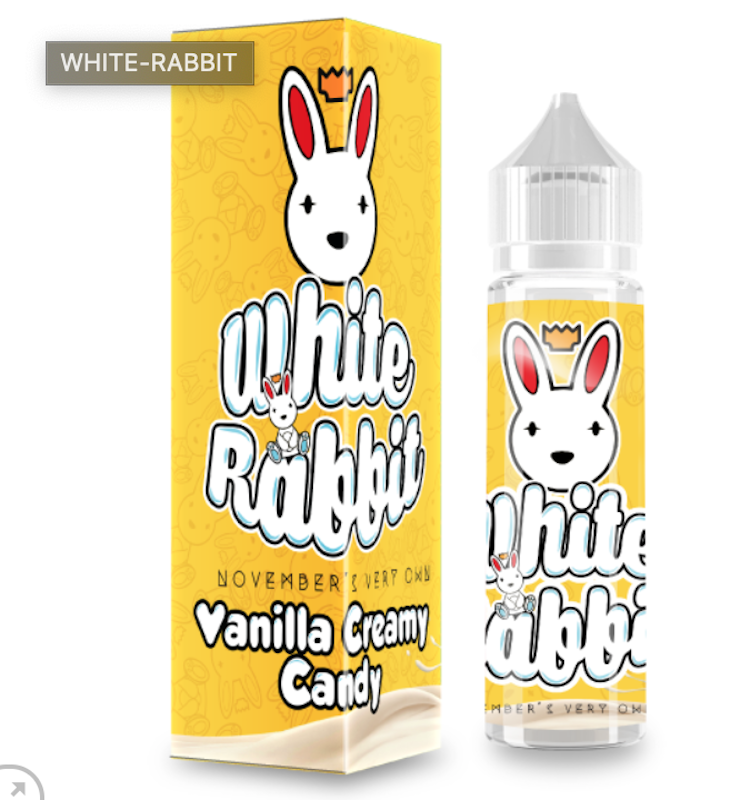 While the description mentions that this is supposed to be based on the white rabbit candy which contains a hint of coconut and vanilla cream. When I smell this, i can definitely smell coconut. So, on first taste, I'm getting massive amount of creamy vanilla. After the fifth puff, now I can taste the coconut. It's strange, while it's supposed to be coconut, it kind of makes this e-juice taste a little bit like caramel. Good thing I don't mind caramel flavors too. I think it's the effect of the blend. The coconut in here feels like maybe 10% of the entire mix. This flavor is nice, but its sweetness level is higher than their other flavors for sure. In terms of cooling, none is detected here.
Medusa Juice E-Liquid – Performance Series (80VG/20PG) – All about those big clouds
The performance series is meant for gigantic clouds and high wattage mods. The main goal with this series is big clouds and so they have gone with lower PG which results in less flavor compared to their Neo Series but the trade-off are bigger clouds for those that want to vape high-wattage devices and do some vape tricks. If you don't mind blowing huge and gigantic clouds in sacrifice of some intensity of flavor, this performance series line-up is for you.
6. OG Kush E-Liquid (20PG/80VG, 3mg)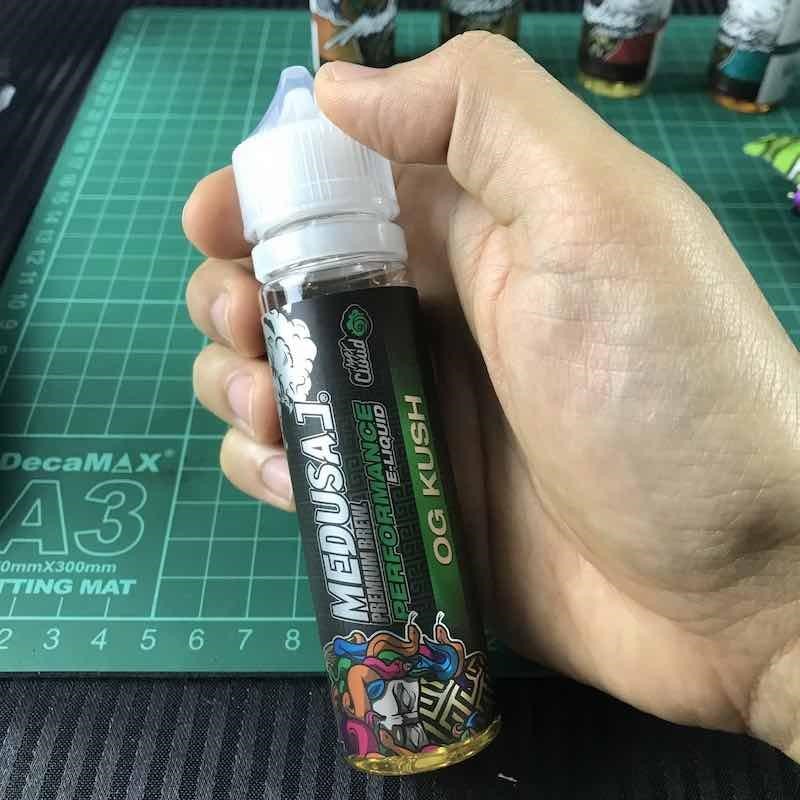 Sweet notes of ripe juicy peaches and some honeydew. For me this is more of a honeydew flavor with the fruity sweetness of juicy peach. Zero cooling notes with almost no sweetness. And the 3mg throat hit is pretty light and very tolerable.
7. Supreme E-Juice (20PG/80VG, 3mg)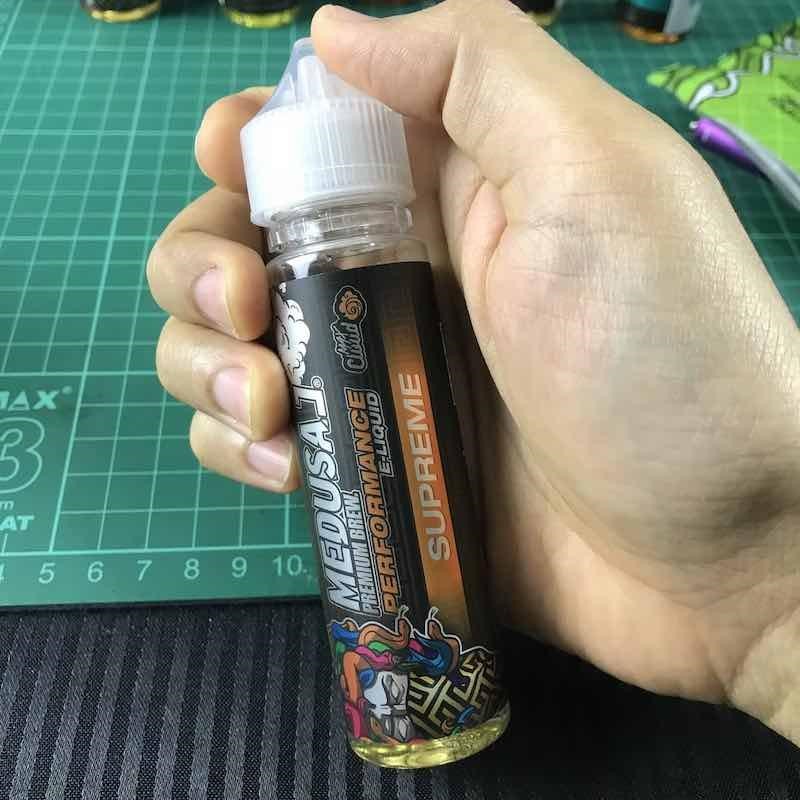 Sweet peaches fill my mouth and reminds me of peach iced teas. Zero cooling and throat hit is low for a 3mg. Very low sweetness level and I can easily fill the room with the smell of sweet peaches. I'm surprised at the intensity level of this flavor given that's the blend is only 20PG.
8. Super skunk Eliquid (20PG/80VG, 3mg)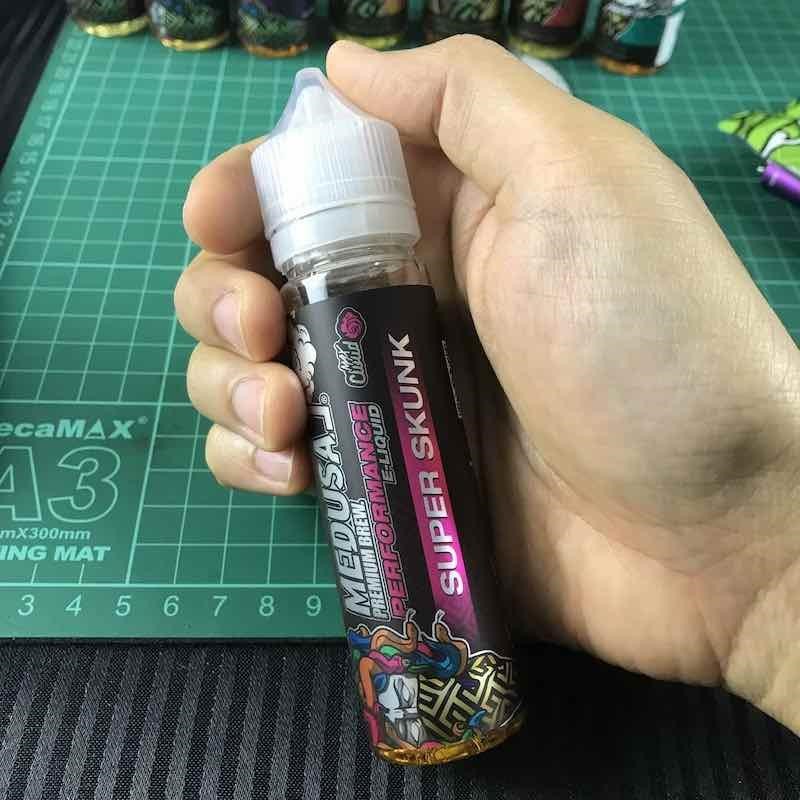 Legit fresh watermelon with some sweet strawberry jam on the exhale. Love this because I can straight away identify the strawberry jam. But you know that the watermelon is there too because it's messing with the strawberry jam and changes the flavor. Overall, these 2 flavors complements each other well and does not overpower you with high levels of sweetness. Zero cooling with zero sweetness makes me blow lots of clouds with a mild throat hit.
9. Endless Vape Liquid (20PG/80VG, 3mg)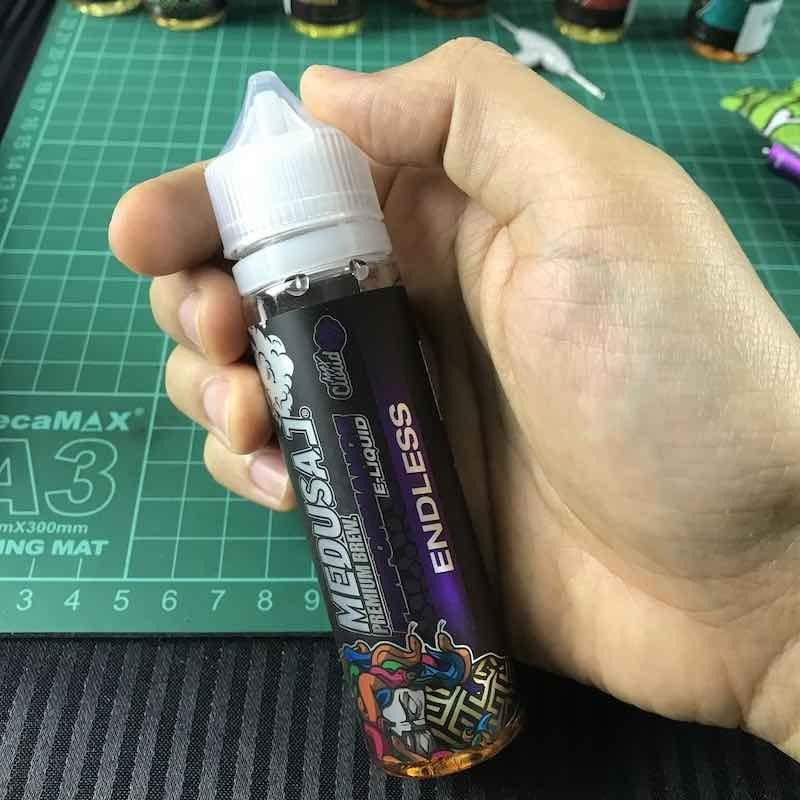 Nice and juicy grape flavor that's smooth and comparable to a grape drink or grape juice concentrate. Zero cooling and zero mint. Sweetness level is very low.
In summary, the main thing I notice about the Medusa Juice Performance Series is that it leaves a dry feeling in my mouth probably due to the high VG content. The flavors also lack any sweetness and what you get is mostly the aroma of the flavor on the exhale rather than an intense taste in your mouth. So just a note for you guys if you are trying high VG juices. If you are looking for e-juices that are more mellow and not super intense in taste, than high VG juices may be the pick for you.
Medusa Juice Salt Nic Series – their best flavors now in Salt Nic form for your POD devices
New for 2019, Medusa has entered into the Salt Nic market in Malaysia. Their key Salt Nic flavor line-up is mostly from their existing flavors, but nonetheless we will take a look at them here and try them out. I'm testing these on the Smoking Vapor Mi-Pod device which uses cartridges of 1.3ohm firing at 3-4.2volts. But remember, depending on the pod device you use, the Salt Nic's can taste remarkably different.
10. Cherry Bomb Salt Nic (50PG/50VG) 30mg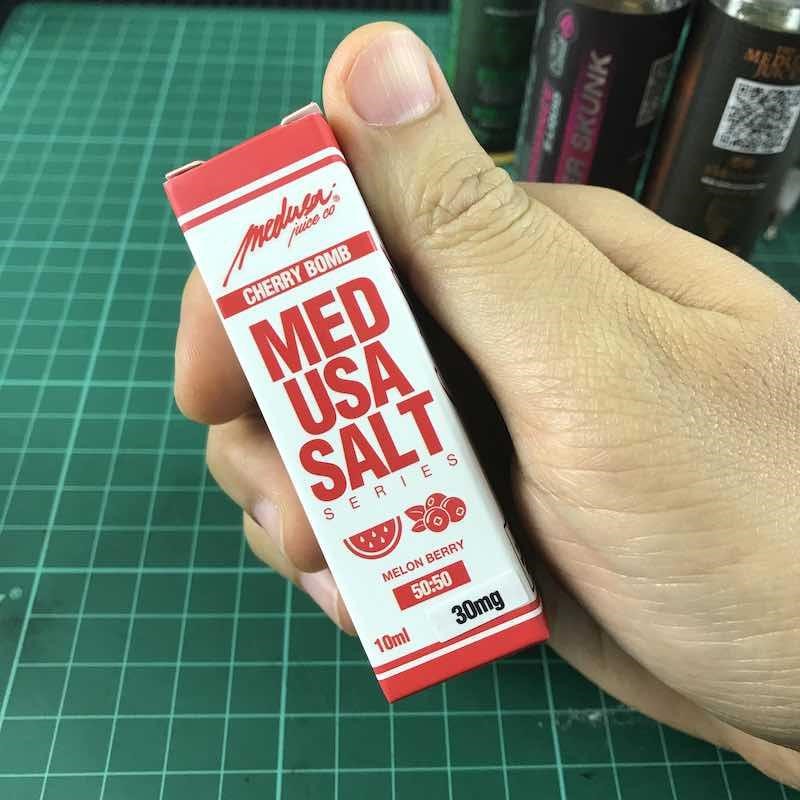 Yup, very true to taste compared to their original salt nic. But I must say that the 50PG/50VG mix results in a greater flavor kick which I like. For me, the Medusa Salt Nic 30mg is very smooth, pleasant with good flavor.
11. Hawaiian Haze Salt Nic (50PG/50VG) 30mg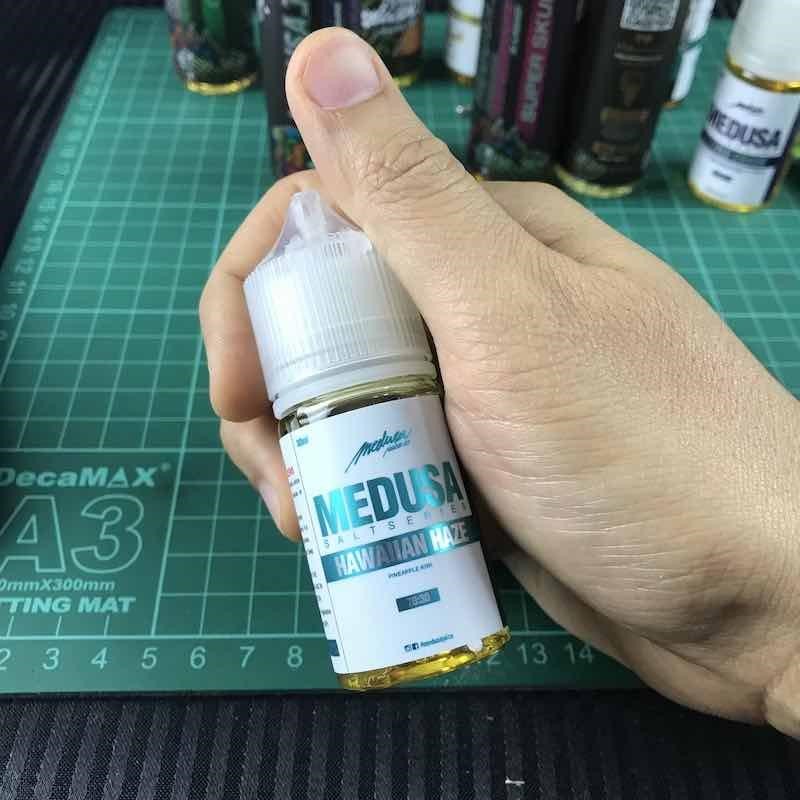 While this Hawaiian Haze Salt Nic tastes similar to their freebase version, I must say that I definitely prefer their freebase version. This tastes so-so if compared to their freebase version as that one tastes a whole lot juicier and I get way more flavor than from this Mipod device.
12. Pure Gold Salt Nic (50PG/50VG) 30mg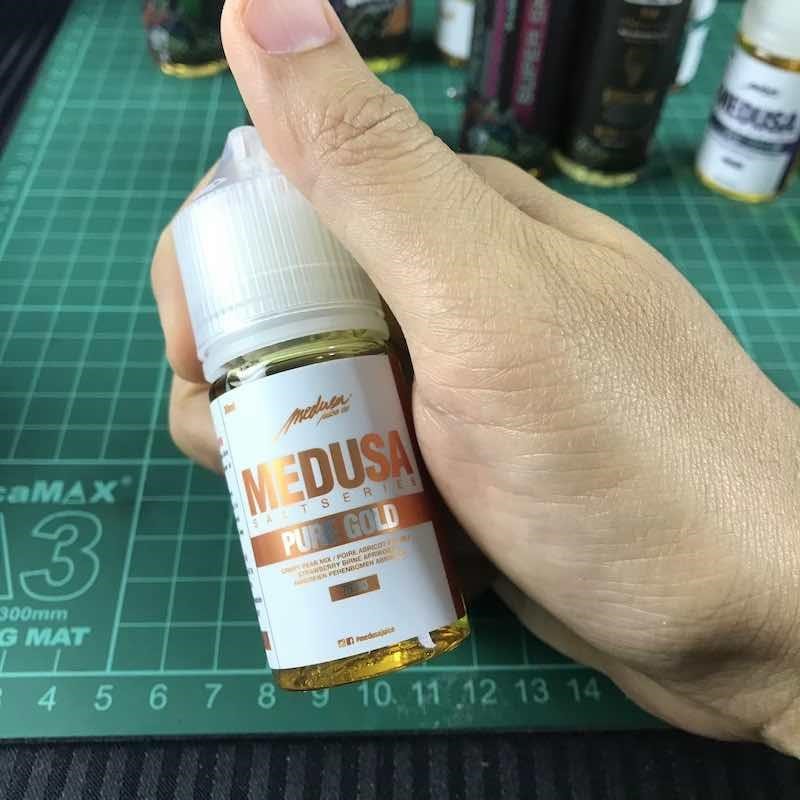 Wow this crispy pear mix is so incredibly tasty. I'm getting nice and crispy pears – a mixture of maybe yellow pears and green pears just like what the descriptions says. I love it when manufacturers can accurately replicate the flavor that they claim on their packaging! Definitely a winner for me! This is performing well on my Mipod device and the flavor is excellent.
13. Purple Crave Salt Nic (50PG/50VG) 30mg
When I puff this on my mipod, aside from the pleasant nicotine hit, my mouth is covered in intense grape bubbles! OK, I know the description mentions grape champagne, but I taste more of grape soda because grape champagne for me is sour!! Also, isn't ALL CHAMPAGNE MADE FROM GRAPES?? Lol. I don't get any sour taste which is supposed to come from drinking champagne, but I can easily identify that this is an aromatic black grape flavor for sure.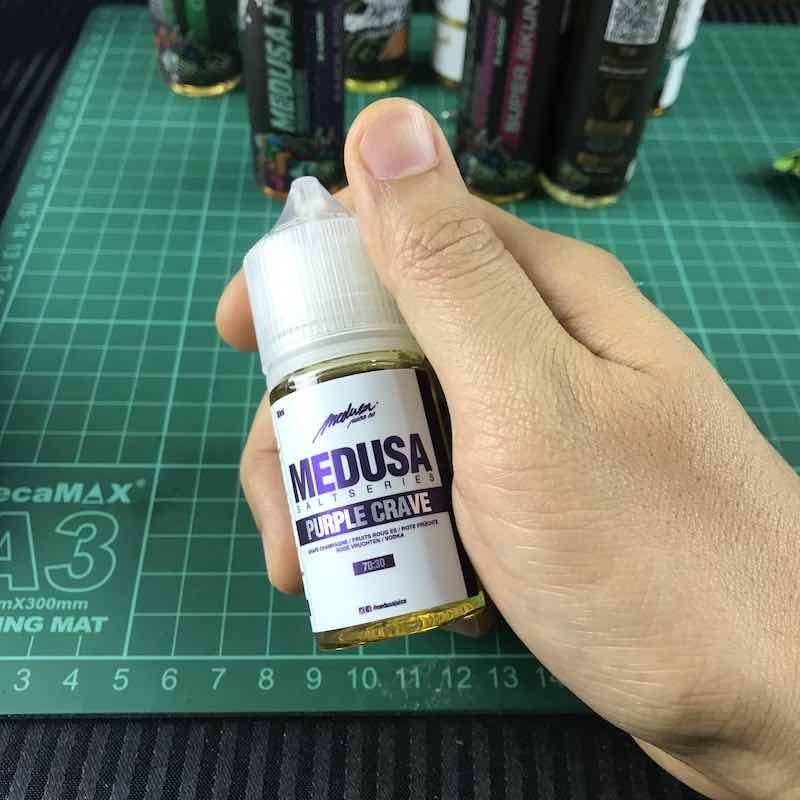 14. White Rabbit Salt Nic (50PG/50VG) 30mg
At first sniff, I can smell a super creamy vanilla ice cream flavor. I am expecting this to taste as creamy as it smells. And…it does ! This salt nic is super creamy and the nicotine hit at 30mg is quite strong for my taste. You get nice vanilla flavor but it's quite muted when compared to the freebase version of the white rabbit. In terms of flavor, I definitely prefer the White Rabbit freebase e-juice and this salt nic is a close copy of that, but the flavor isn't as nice for me.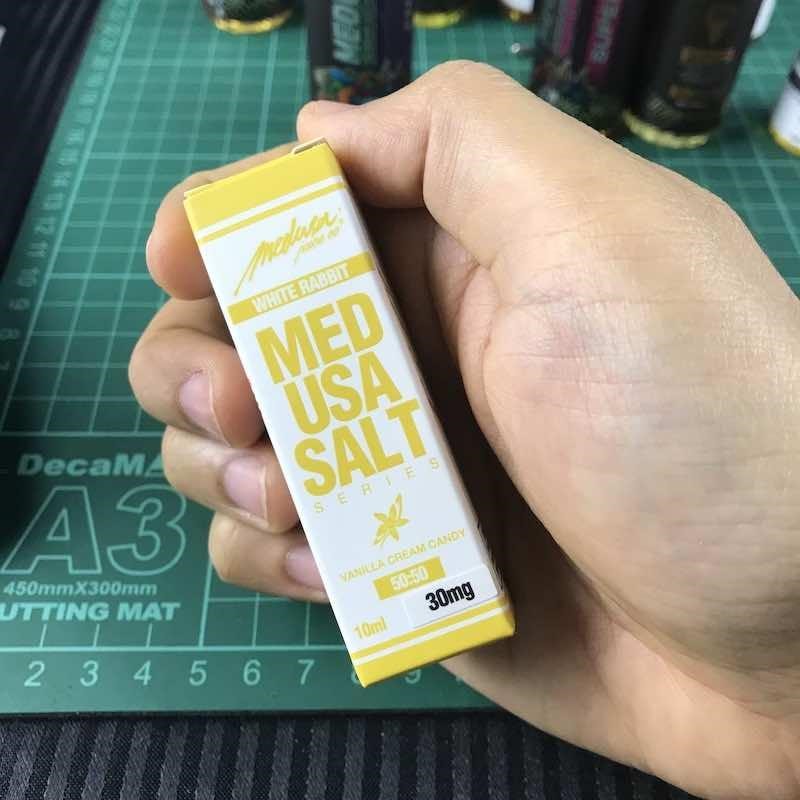 Summary
That sums up the collection of e-liquids from Medusa Juice! I hope my description of the flavors give you a better idea of their taste. After much testing, I would say that Medusa uses fantastic packaging and clever branding to attract users to their e-juice. But the flavors do not disappoint and are made with care and quality. They have some interesting twists to plain fruit flavors that will delight many vapers out there. They are one of the more unique brands that also cater specifically for cloud chasers by using a high VG mix that is milder in taste.
As for my recommendations and notable characteristics, you can see the list below. I have ordered the list from most favourite to least favourite.
| | | | | |
| --- | --- | --- | --- | --- |
| Most Favourite to Least Favourite | Name | Sweetness and Cooling Level | Easily identifiable flavors? | Key characteristic |
| 1 | Cherry Bomb | Low Sweetness and Zero Cooling | Yup | Just awesome taste of sweet watermelon with some berries in the mix which makes it interesting |
| 2 | Hawaiian Haze | Low Sweetness and Zero Cooling | Yup | Pineapple and kiwi are a nice combo that gives the feeling of freshness and sweetness without gunking your coils. |
| 3 | Supreme | Zero Sweetness and Zero Cooling | Yup | Nice peach tea flavor without any sweetness. The aroma is what I enjoy the most. |
| 4 | Crystal Kandi | Low Sweetness and Zero Cooling | Yup | The kiwi here is very obvious and complements the banana well. The aroma for me, is fantastic |
| 5 | Super Skunk | Zero Sweetness and Zero Cooling | Yup | Watermelon and strawberry jam that's smooth easy to vape |
| 6 | Endless | Zero Sweetness and Zero Cooling | Yup | Nice simple grape flavor |
| 7 | Tangie Queen | Low Sweetness and Zero Cooling | Yup | The mango flavor here makes me bored fairly quickly. |
| 8 | OG Kush | Zero Sweetness and Zero Cooling | Yup | The honeydew doesn't taste as nice due to the zero sweetness. |
Nicotine Salt flavors by Medusa Juice ranked in order of most favourite to least favourite:
| | | | | |
| --- | --- | --- | --- | --- |
| Most Favourite to Least Favourite | Name | Sweetness and Cooling Level | Easily identifiable flavors? | Key characteristic |
| 1 | Pure Gold | Low Sweetness and Zero Cooling | Yup | The crispy pear taste I'm getting with my Mi-Pod device is just amazing. Highly recommend this. |
| 2 | Purple Crave | Low Sweetness and Zero Cooling | Yup | Simple grapes are one of my fav's and this does not disappoint. |
| 3 | Cherry Bomb | Low Sweetness and Zero Cooling | Yup | Similar to their freebase version, I taste of sweet watermelon as the primary flavor with some berries which makes it unique to vape all day |
| 4 | White Rabbit | Mild Sweetness and Zero Cooling | Yup | Vanilla Cream that's sweet with small hints of coconut. Can't vape this for too long |
| 5 | Hawaiian Haze | Low Sweetness and Zero Cooling | Yup | Not as good as their freebase version unfortunately |